Our CBD oil 10% full spectrum premium or full spectrum MCT based, is a natural product made with cannabidiol extract (CBD), obtained from cannabis sativa. Each bottle contains 200 drops that will last for 2 full months for most people.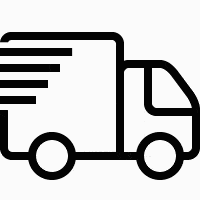 Shipping in 24/48 hours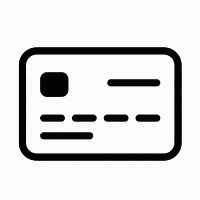 SAFE Payment











What each bottle of CBD oil contains 10%
Each bottle of Higea CBD 10% gives you 1000 mg. of CBD Full Spectrum (full spectrum), from 100% natural organic hemp without GMOs.
CBD is a molecule that brings many benefits without the psychoactive effects of THC: another molecule present in the marijuana plant. Each bottle of 10% Higea CBD gives you 1000 mg. of FULL cultivo orgánico certificado Spectrum CBD from 100% natural and GMO-free certified organic hemp. Our extraction method is super-cryptic CO2 and is performed in laboratories in the Netherlands. Carrier oil is MCT (chain of triglycerides from coconut) and also contains other cannabinoids to a lesser extent that enhance and act in a similar way: CBD, CBG, CBC and terpenes. We maintain these components to ensure that our oil is Full Spectrum. You can find the COAS (lab test) on this same product sheet.
Thanks to our strict quality controls, our 10% Higea CBD bottles always contain a percentage of less than 0.2% THC. Your mind and body will only receive the benefits of CBD. For topical use.
Control the dose based on your weight and need.
With only 3/4 drops you will notice its effects
Totally natural product.
How to use
Shake before use. External use.
HigeaCBD CBD oil can be easily dosed thanks to the built-in dropper. Below you can see the table with the recommended dose. Higea CBD CBD oil does not cause any psychoactive effects and has no side effects, so you can use it at any time of the day.
Dosage of Higea CBD oil at 10% – 1000 mg
Analytics and Security – Certificate of Analysis (CoA)
| | | |
| --- | --- | --- |
| | | |
| | | |
| | | |
| | | |
| | | |
| | | |
| | | |
| | Tetrahydrocannabidivaniric Acid | |
| | | |
| | Tetrahydrocannabinolic Acid | |
| | | |
| | | |
| | Δ9 - Tetrahydrocannabinol | |
| | | |
| | | |
What are the 10% CBD drops for?
Thousands of people around the world benefit from the properties of CBD drops to lead a fuller life.
The hustle and bustle of daily life wrevocs on our organism. The high levels of stress to which we are subjected, coupled with the difficulty of falling asleep due to multiple concerns, make a dent in our health causing damage to our body.
A high percentage of the population suffers from stress and the trend seems not to decrease.
Chronic stress can affect the production of gamma-aminobutyric acid (GABA): a neurotransmitter whose function is to control fear and anxiety in high pressure situations.
This results in anxiety and insomnia disorders.
In addition, everyone knows that being subjected to chronic stress can cause other discomfort, such as:
Recurrent headaches.
Digestive system problems such as constipation or diarrhea.
Continuous muscle tension.
Feeling tired.
Weakening of the immune system. This makes us vulnerable to various contagious diseases, infections and other conditions.
If you're continuously under high stress levels, your body will gradually deteriorate, and with it your health and well-being.
The study published in the Perm Journalhas analyzed the treatment with 10% CBD oil,also known as CBD 1000 and its relationship to sleep reconciliation.
But what effects does it have?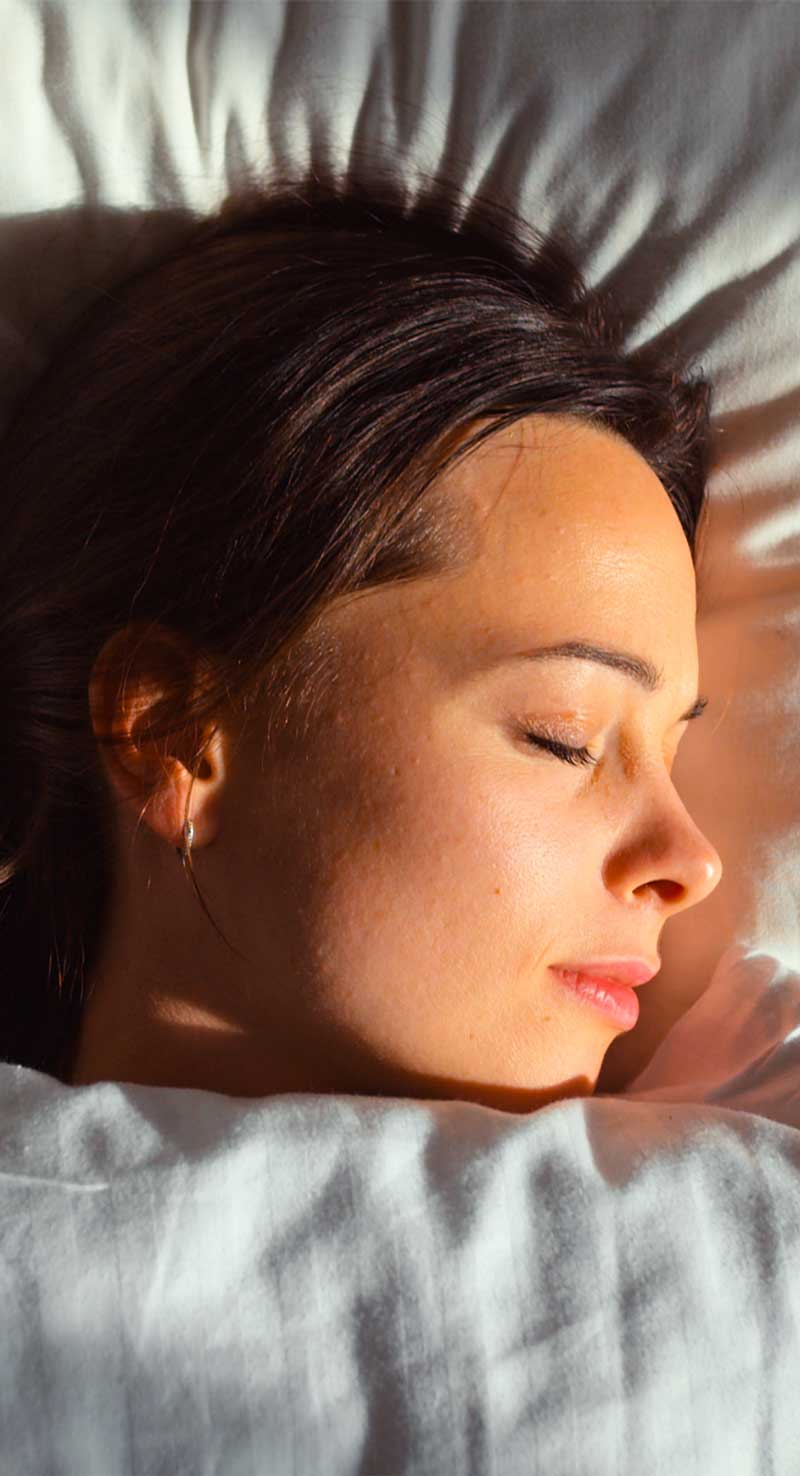 Did you know you can get CBD oil to sleep? That's what the Perm Journal study tells us that we quoted above.
How cannabis use affects sleep quality is an issue that has not yet a clear answer.
While in some people their consumption causes relaxing effects and induces them to sleep, in others the opposite occurs, given the case of sleep disorders such as insomnia. Insomnia is defined as a sleep disorder that makes it difficult not only to maintain it throughout the night.
We need a good night's sleep so that our physical and mental functions act properly. Otherwise, we will suffer negative consequences such as tiredness, inattention and concentration and predisposition to suffer diseases such as diabetes, high blood pressure or cardiovascular problems, among many others.
Existing studies in this regard are not yet entirely conclusive. What does seem clear is that cannabis relieves daily stress and stress, which in most cases are the cause of not having a good sleep, both in quantity and quality of it.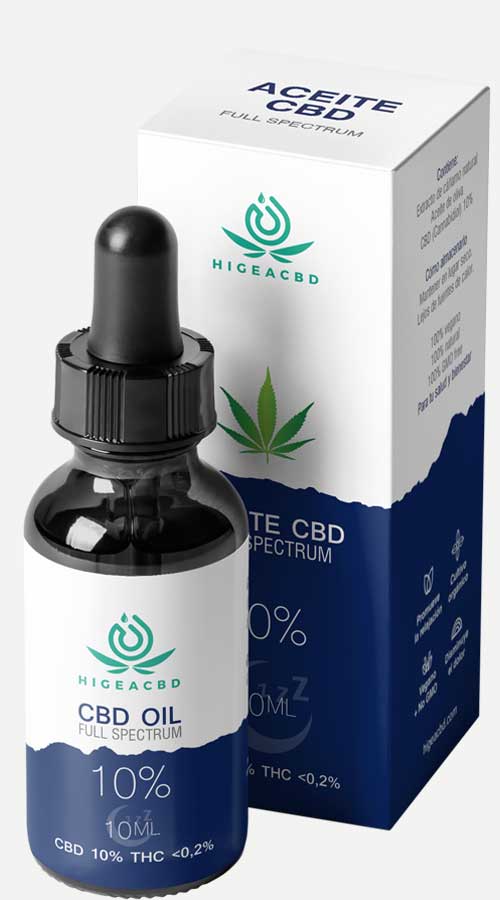 These sleep drops interact with the body's neurotransmitters, thus helping to regulate emotional reactions to stressful situations.
However, it also has other positive effects on the organism, including the fact that it is not psychoactive, due to the fact that in the treatment THC does not exceed 0.1%.
Colin Cameron's study published in the Journal of Clinical Psychopharmacology indicates that CBD could act as an analgesic, making pain milder and could also be a very potent anxiolytic, facilitating sleep balance and improving insomnia problems.
In addition, other positive effects are as follows:
Antioxidant
Avoid nausea
It's immunomodulatory
Remember that sleep problems are common and insomnia is one of the most common sleep disorders. In fact, in the United States alone, insomnia affects between 10% and 30% of adults.
Insomnia is a condition in which a person has difficulty falling asleep or staying asleep. It is often related to lack of sleep, which in turn can have major repercussions on your physical and mental health.
Higea CBD 10% CBD oil can be a natural solution for those who struggle to get a good night's sleep. CBD is known for its relaxing and calming effects, which can help reduce stress and anxiety, factors that often contribute to sleeplessness.
CBD can also help improve sleep quality. Research has shown that CBD can help reduce symptoms of sleep disorders such as insomnia and restless leg syndrome. This can help users sleep more soundly and wake up feeling more rested and rejuvenated.
Higea CBD 10% CBD oil is a safe and natural option for those looking to improve the quality of their sleep without the side effects that can accompany prescription sleep medications. By choosing a high-quality product like Higea CBD 10% CBD oil, users can be confident that they are getting a safe and effective product that can help them get a better night's rest.
How do sleeping drops work?
Most treatments for insomnia work because they have a sedative effect, which means they make you sleepy. That tiredness may come on quickly to help you fall asleep or it may last longer to help you sleep.
Adult sleeping drops work effectively by providing such a sedative effect on your body. As a result, your body feels more relaxed and ready to fall asleep and sleep peacefully.
Higea CBD products calm your mind and fight insomnia related to anxiety and stress. Even if you are an elderly person, and you use sleep drops for the elderly, the next day you will wake up refreshed and in a short time you will recover your sleeping habits.
Another thing we would like to point out is that CBD oil can be used as natural sleeping drops, as it contains 10% CBD. Therefore, you get all the health benefits of this cannabidiol, including sleeping better and longer.
How to use CBD sleeping drops?
Many people with sleep problems wonder, what drops are good for sleep? After trying many treatments and medications without success, CBD users have discovered that CBD cannabidiol can help them relax and prepare for a good night's sleep.
The advantage is that unlike traditional sleeping pills, Higea CBD relaxing drops do not produce drowsiness or tiredness. Both you and your pets will wake up refreshed and with more energy.
With regular use, deep sleep drops will help you maintain balance in your body, allowing you to continue your natural sleep cycle.
CBD oil 10% to fight insomnia
As published in Colin Cameron's study published in the Journal of Clinical Psychopharmecology, one of the potential advantages of 10% CBD is how it could act to win the battle for insomnia and achieve deep, restful sleep. The way this cannabinoid is acted upon in the body is different from that experienced with sleeping pills. Instead of sedating as with hypnotics, CBD could help regulate the natural biological cycle of wakefulness and sleep.
An important aspect to note is that topical use of hemp derivatives for sleep does not produce addiction or side effects. Therefore, after a good rest, you will be ready to deal with the demands of a new day with much more renewed energies.
Once you achieve stabilized the wakefulness-sleep cycle, cbd administration could be stopped and administered again externally again only when necessary.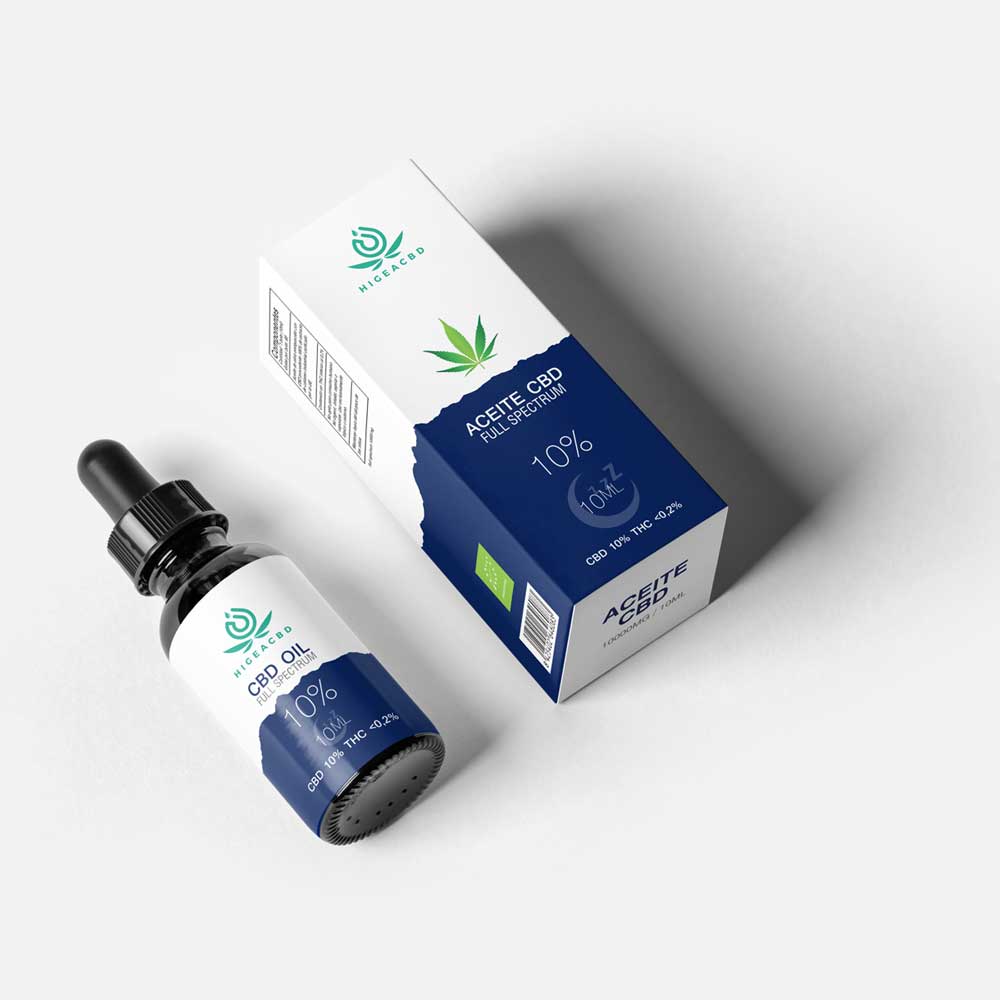 Ways to consume CBD Oil at 10%
Remind you that our CBD oil is for topical use only. In this case,
the bioavailability of CBD
is important. It will always depend on the degree of CBD concentration and body size.
However, considering that CBD oil 10% is very potent what is the recommended dosage?
It is advisable to graduate the dose. In the case of CBD, high doses do not imply a greater effect.
10% recommended CBD dosage for treatment
Since there are not enough formal clinical studies that provide guidance on the amount of 10% CBD oil, we will give you a series of recommendations so that you can define the dose of 10% CBD oil recommended in that case.
Each person's body has unique characteristics that influence the effect a certain dose can have when CBD is administered.
These unique characteristics are the physiological variables that are metabolism, body composition and weight.
This means that the right dosage for you may not be beneficial for another person.
For this reason, we recommend that you start with a very small dose to assess if there is improvement in your stress levels, if you manage to fall asleep and have a restful rest.
The recommended CBD dose also varies depending on how it is to be administered, as depending on the route chosen the bioavailability varies.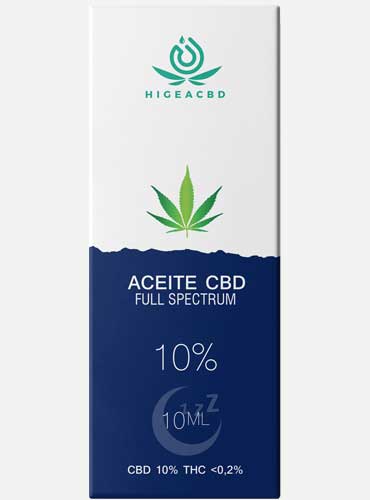 We understand that you want to achieve maximum well-being in the shortest possible time, but we recommend prudence and patience.
If you want to buy 10% CBD oil,you can buy it on this same page.
One thing we don't really discourage is to stop taking medications that have been prescribed to test a 10% CBD oil treatment.
As it is a 100% natural product, we recommend keeping it in a cool place protected from light.
Keeping it inside the refrigerator tightly closed will ensure that the product retains its properties for a long period of time.
Can CBD oil help in sleep disorders?
As published in the Journal of Clinical Psychopharmecology, in Colin Cameron's study, cannabinoids could promote sleep reconciliation and therefore help combat insomnia.
But we must keep in mind that not all cannabis strains are suitable for this purpose.
The Indica variety produces more relaxing effects, both physically and mentally, reducing energy and causing sleep.
On the contrary, the sativa variety is associated with more energizing and more euphoric effects, accentuating perceptions and stimulating thought and creativity.
Lately studies have turned their attention to the specific composition of cannabinoids and terpenes as sleep conciliators, due to their sedative and narcotic effects.
Cannabis extracts such as CBD oil contain hundreds of natural terpenes.
Although the effects of CBD are not yet completely clear, what it is is that it exhibits a different behavior depending on the dosage.
In small doses CBD oil generates a state of alertness that can be beneficial for people who suffer sleep and tiredness during the day.
At high doses CBD could act as a tranquilizer and muscle relaxant, although it cannot be considered as a sedative proper.
These properties of CBD could be helpful in treating symptoms associated with insomnia.
A few drops of CBD oil could help naturally regulate sleep disorders, regaining the balance between sleep and wakefulness hours.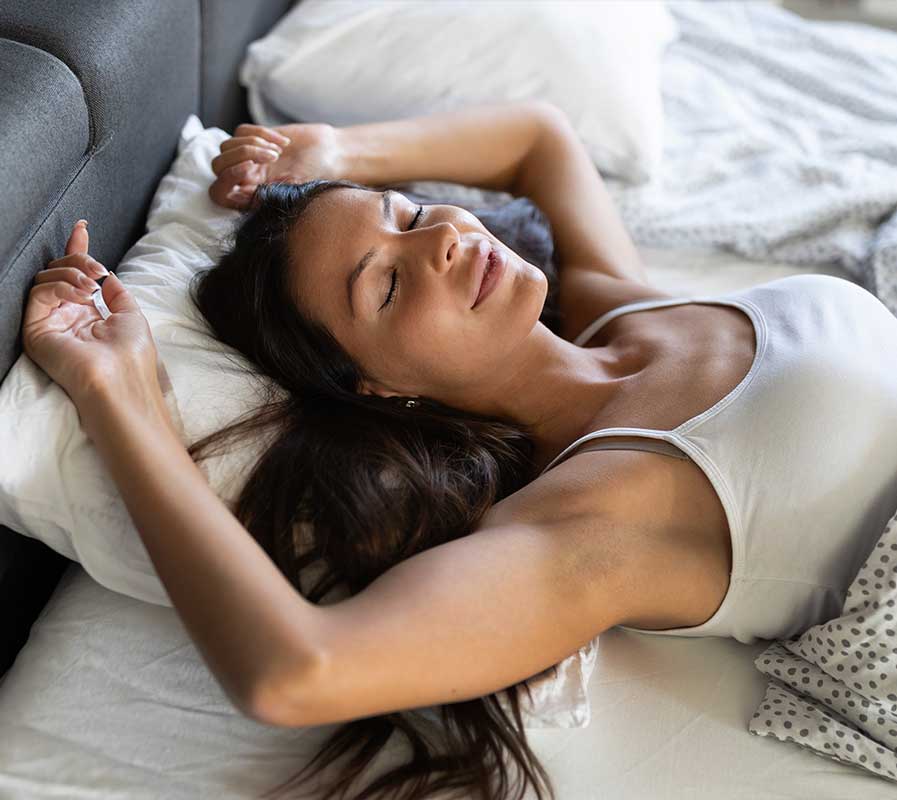 And all this being assured not to suffer addiction or harmful side effects as is the case with sleeping pills.
If you start using it it it is advisable to do it with an oil of 10%.
Between 2 and 3 drops about two to three hours before you go to sleep, they are enough to test how CBD oil works in your body.
You can also use them gradually throughout the day. For example, you can use one or two drops in the morning, two or three at noon, and another two or three drops about half an hour before bedtime.
This way, the body already arrives relaxed at the end of the day and you don't need to concentrate it in a single dose.
Depending on its effects, you will be able to increase the dose or concentration.
Some of these CBD oils contain melatonin.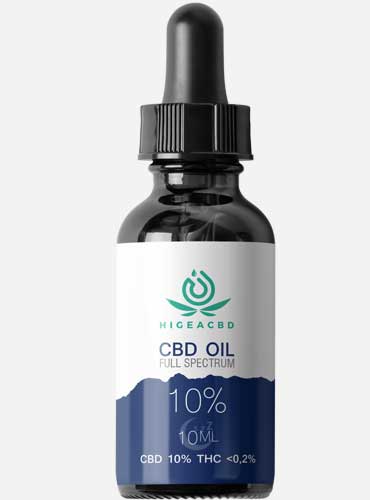 CBD oil and liposomal vitamin C
We have already explained that 10% CBD oil according to Colin Cameron's study could be an effective ally for the treatment of stress and insomnia among other symptoms.
Like other cannabinoids, it acts in the body systemically providing other positive effects. However, it is important to note that not carrying a treatment for stress can generate a series of alterations in the body that, of course, are not at all favorable.
One of the negative effects it causes is the deterioration that the immune system can suffer.
However, CBD, by its interaction with the endocannabinoid system, produces a homeostatic system could be beneficial.
Therefore, the use of 10% CBD oil, in combination with vitamin C in liposomes,could contribute beneficially in most people.
As you can see, if you decide to use it to combat stress, it is highly recommended that you combine the treatment with liposomal vitamin C to enjoy all its benefits.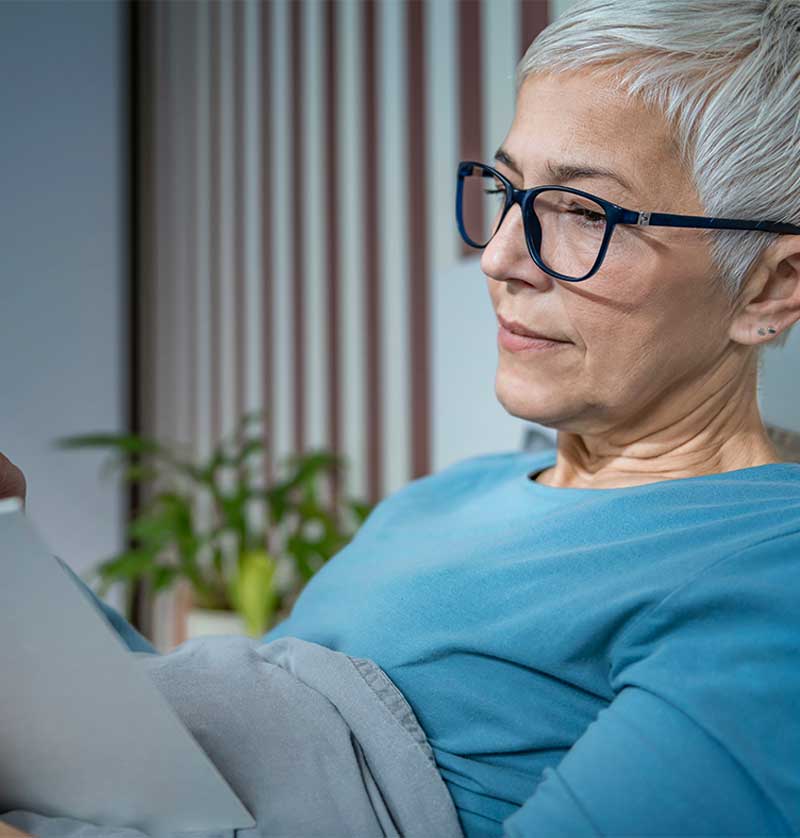 Melatonin is one of the many hormones we have in our body. It is created from the essential amino acid Tryptophan, through the transformation into the pineal Serotonin gland into melatonin.
Melatonin serves several functions in our body. One of the most important is to regulate our biological clock, to adjust the sleep and wakefulness cycle or circadian cycle.
The factor that regulates the secretion of this hormone is light. That is, it is only activated when there are no luminous stimuli.
For this reason, our body produces it during the night inviting us to sleep. This production decreases as we perceive the light, which causes us to wake up.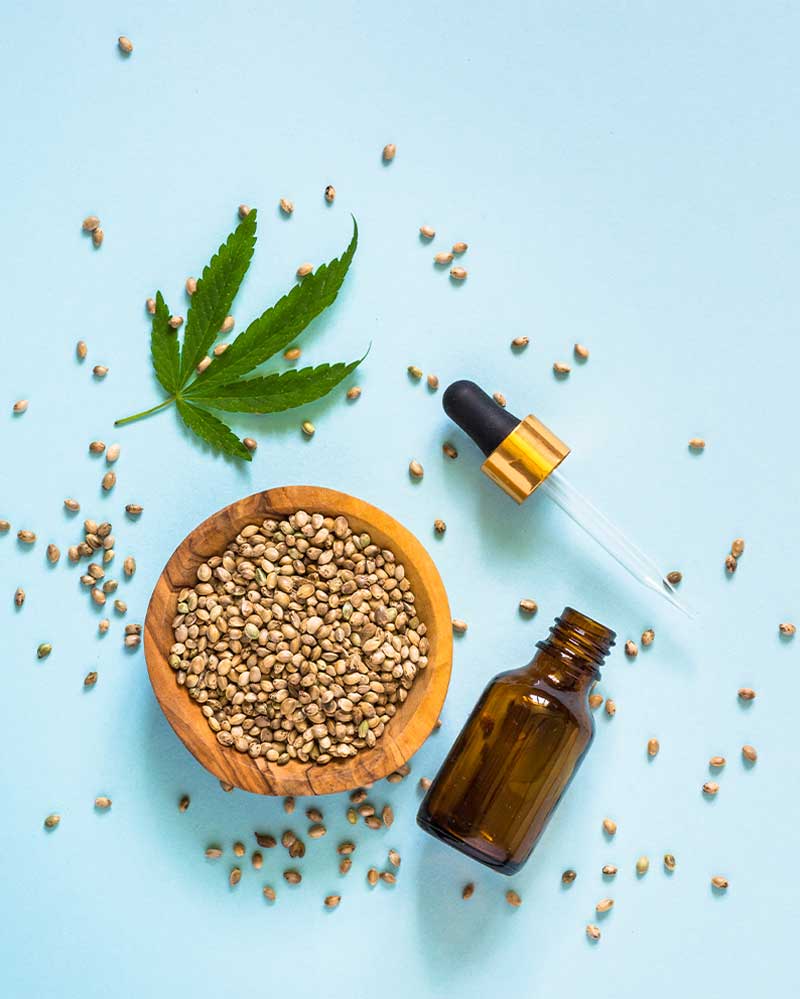 Melatonin production may be reduced by multiple causes.
It may have to do with external factors such as excess light, changes in routines, stress, jet lag, or internal factors such as age.
Aging reduces melatonin production, causing many people, aged 50 and over, to start suffering from insomnia.
When melatonin levels are low, it can be solved by taking supplements. These help us by regulating sleep cycles so that we have a better sleep quality.
Since both are natural compounds and appear to complement each other, studies that have been conducted so far indicate that there is no risk to use CBD and consume melatonin at the same time.
Melatonin combined with CBD helps you fall asleep faster and stay asleep longer. If you are looking for CBD oil forsleep, in our online store we have certified organic growing oil with all laboratory tests to guarantee its highest quality.

Natural components
Liposomal vitamin C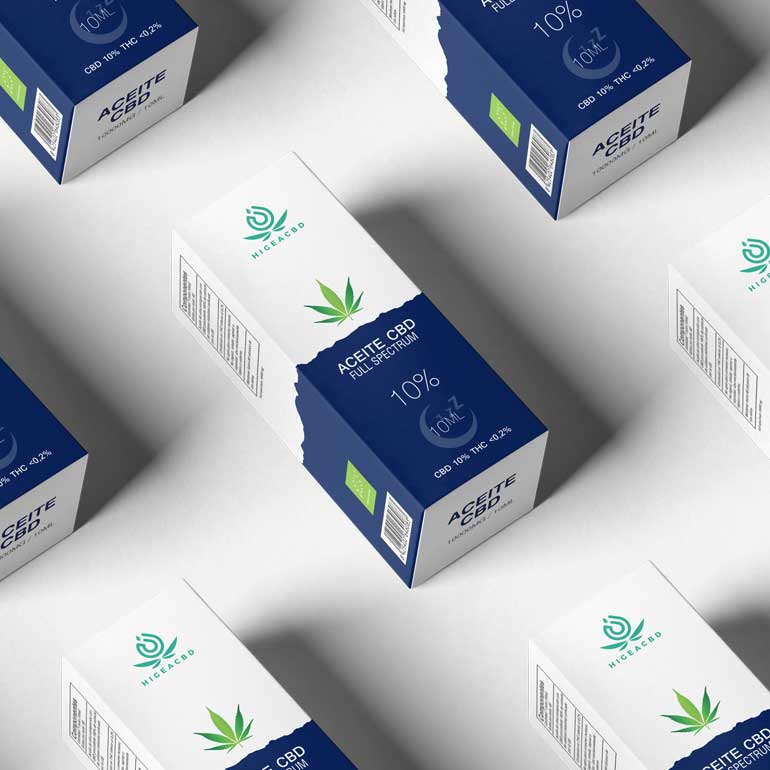 How to take liposomal vitamin C
Thus, at the same time as general improvements, the synergistic action of CBD and vitamin C contribute to enhancing the benefits of both substances.
If you're wondering how to take liposomal vitamin C,this pharmaceutical form is intended for oral consumption and comes as a dietary supplement.
Liposomal technology allows vitamin C to reach cells directly without being subjected to the action of gastric juices.
This ensures that the dose of vitamin you eat is absorbed into your body almost entirely.
However, thanks to advances in studies conducted by CBD, your life can change forever.
Now the point is to start treatment as soon as possible so that, your life, is the one you've always wanted.
In our store we have 10% high quality CBD oil to help you.
If you need advice to buy the perfect product for you, do not hesitate to contact us. We will be happy to assist you.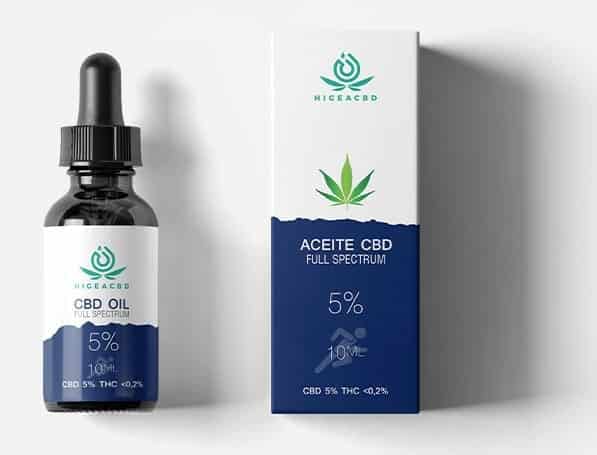 Legal notice and privacy policy