Higea CBD muscle pain cream 50 ml
Higea CBD muscle, back or joint pain cream (100 mg) is enriched with cannabinoids such as cannabidiol (CBD), vitamins and minerals, which help to reduce the level of pain. Lavender, peppermint, and bergamot oil are parts of the analgesic and soothing cream.
50ml (1.6907 fl OZ.)
Suitable for all skin types.
Fast absorption.
100% vegan.
Not tested on animals.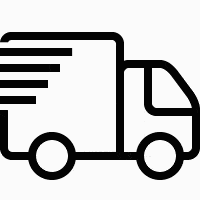 Shipping in 24/48 hours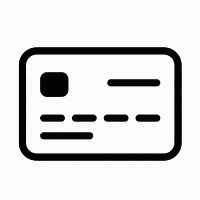 SAFE Payment











Directions for use of the muscle pain cream
One of the reasons why this is the best knee pain cream has to do with the fact that it penetrates deep into the skin, and consequently relieves pain in a very short time.
The correct way to use Higea CBD foot pain cream is to massage the affected area, and apply directly. Thanks to its natural ingredients, this lotion for muscle aches and pains can relieve aches and pains and keep the muscles and joints of our body healthy.
It is important to remember to wash hands thoroughly after use. In addition, because it is a product intended for topical use only, it should not be used in any way other than as directed by the manufacturer.

Keep out of the reach of children.

For topical use only.

Avoid use in eyes or mouth, rinse with water immediately in case of contact.
Composition of Hygea CBD pain cream
Natural ingredients certified by the European Union:
Aqua, Olea Europaea Fruit Oil, Prunus Amygdalus Dulcis Oil, Cetearyl Alcohol & Ceteareth- 20, Aloe Barbadensis Leaf Juice Powder, Cannabis Sativa Seed Extract, Benzyl Alcohol, Salicylic Acid, Glycerin, Sorbic Acid, Helianthus Annuus Seed Oil, Lavandula Angand Extract Peppermint Essential Oil, Bergamot Essential Oil
It is important to clarify that this cannabidiol pain cream is composed of natural elements that enhance the benefits of cannabidiol CBD. Due to the following ingredients, it can also be used as a cream to relieve neck pain:
Prunus Amygdalus Dulcis Oil.
Olea europaea fruit oil.
Aloe barbandensis leaf juice powder.
Cetearyl alcohol and ceteareth 20.
Cannabis sativa seed extract.
Sorbic acid.
Salicylic acid.
Helianthus annuus seed oil.
Bergamot essence oil.
Peppermint and lavandula extract.
Science has shown that cannabidiol is absorbed through the skin and helps with inflammation and joint ailments. So, if those are the symptoms you are experiencing, Higea CBD pain cream may be what you need.
Here we share with you all the details about the new Higea CBD pain lotion that is now on sale. This is a muscle pain lotion that harnesses all the therapeutic properties of CBD and gives you relief from all kinds of body aches and pains. It is added to Higea CBD creams such as the healing balm, hand cream and facial cream.
Higea CBD Pain Relief Cream Characteristics
One of the main characteristics of the Higea CBD muscle pain cream is that it is enriched with vitamins and minerals. In conjunction with cannabinoids, these natural compounds help your body heal itself, and as a result decrease pain levels.
In addition, Higea CBD pain cream absorbs quickly once you apply it to the affected area. Once this is done, its active ingredients stimulate the cannabinoid receptors. An additional advantage is that it works as a back pain cream, providing the necessary relief that part of your body requires.
It is even recommended for use as a heel pain cream due to its analgesic and soothing properties. This is possible because Hygea's CBD pain cream contains lavender, peppermint, as well as bergamot oil. All these natural ingredients stand out precisely because of their analgesic properties.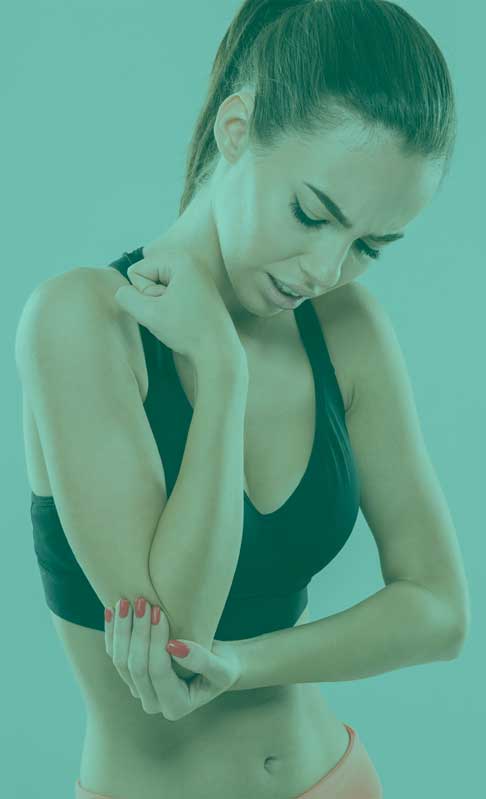 Why use Higea CBD muscle pain cream?
CBD oil is a natural remedy widely used for a variety of physical and mental ailments. As we have mentioned before, cannabidiol, or CBD, is a naturally occurring cannabinoid chemical found in the cannabis plant.
In fact, that's one of the reasons why this lotion is known as cannabi pain cream. CBD and other cannabinoids can be extracted from the cannabis plant and used in a variety of cannabis-based products.
As with other CBD products, the CBD in this neck pain relief cream is a blend of cannabidiol extract and a carrier oil. The function of these oils is to enhance the effects and benefits of CBD and allow the user to experience relief from their ailments in a very short time.
The underlying cause of pain can be complicated and come from a variety of sources. In addition, pain levels can range from mild to severe and can be short term or long term. Chronic pain, for example, is defined as pain that lasts longer than six months, even though the illness or injury has passed.
Chronic pain can have a variety of reasons, but is usually caused by damaged nerves or inflammation. The good news is that Higea CBD back pain cream can help with inflammation and discomfort in the different areas of the body where pain is experienced.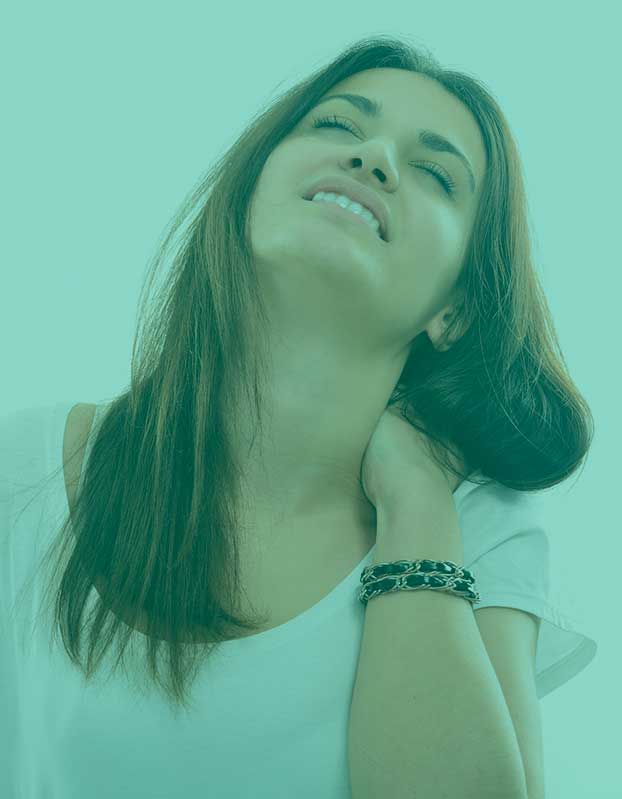 May relieve chronic pain
As mentioned, chronic pain is defined as persistent pain that lasts more than a few months and persists even after recovery from injury or illness.
Back discomfort and recurrent headaches are examples of chronic pain. While people can manage chronic pain with a variety of treatment options such as acupuncture, medications, and surgery, severe types of chronic pain cannot be cured and must be monitored and managed for the rest of life.
Because chronic pain is a long-term condition, some people are turning to natural and alternative therapy options instead of traditional medications. This is because negative side effects often occur.
However, with Higea CBD pain cream it provides beneficial effects and can help reduce the severity of chronic pain. Thanks to this, people suffering from chronic pain have a new therapy option that reduces aches and inflammation.
In addition, it has been shown that tolerance to the effects of CBD is very unlikely to develop. This means that it will not be necessary to increase the amount of cream over time.

EXCELLENCE IS A HABIT
Skin cared for from day one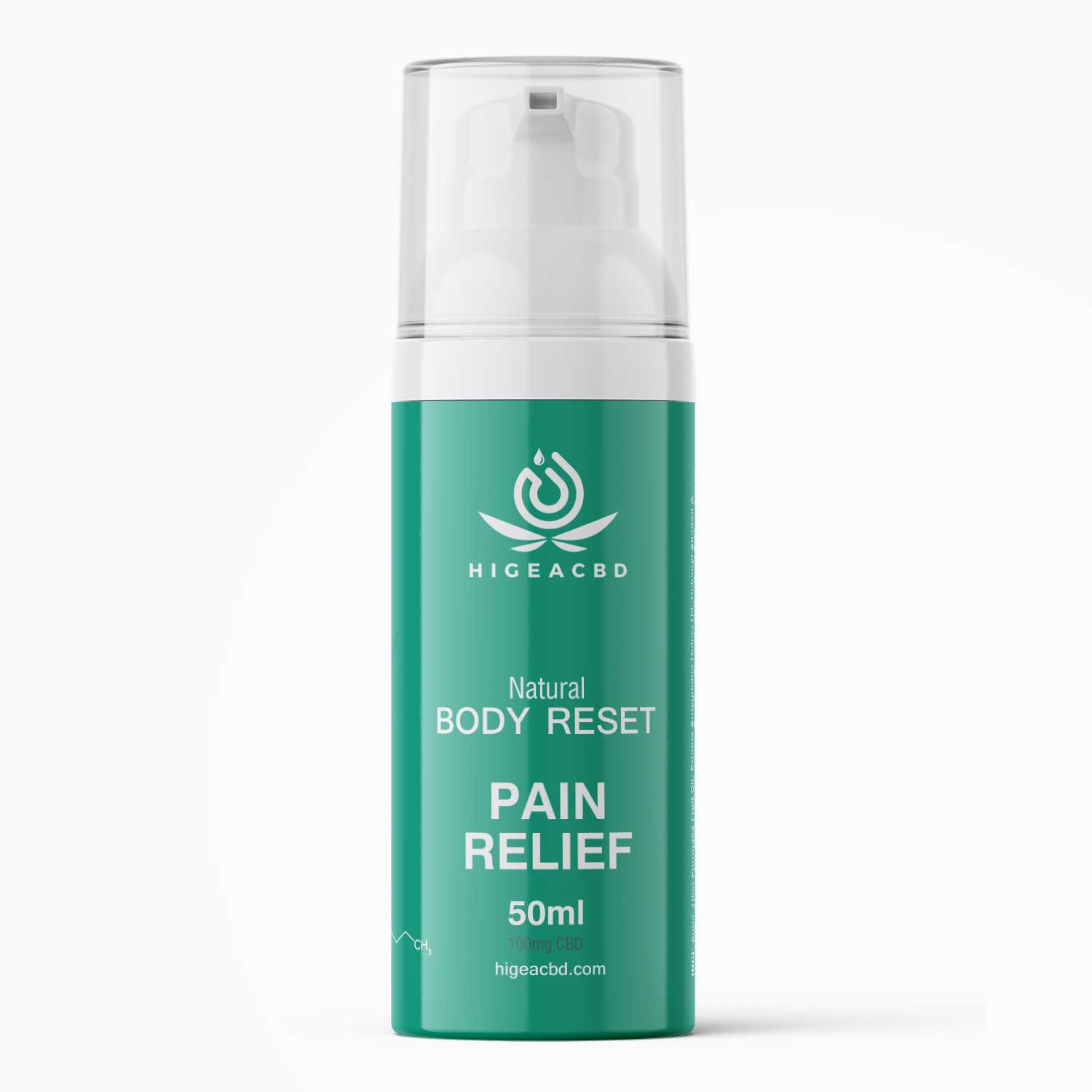 Provides anti-inflammatory effects
Another reason to use this heel pain cream has to do with the anti-inflammatory properties of CBD. It is important to keep this in mind, as inflammation and pain usually go hand in hand.
Higea CBD Muscle Pain Cream has been specially formulated to treat pain and inflammation, in areas of the body such as the back, knees, muscles and joints.
Inflammatory pain is caused by an abnormal immune system response, which is related to diseases such as arthritis. This CBD pain lotion has been shown to be effective in reducing inflammation in the body. This may help people who have chronic pain and difficulty sleeping get a better night's rest.
Chronic or acute inflammation is also possible. Acute inflammation is characterized by redness and swelling in the affected area as a result of an illness or infection. A persistent inflammatory reaction leads to chronic inflammation. Increased oxidative stress is potentially damaging to organs and tissues.
Therefore, it is a great benefit to use Higea CBD muscle pain lotion that provides anti-inflammatory effects and brings relief from aches and pains. Anyone suffering from swollen feet, neck pain, back pain, heel pain, knee pain, and muscle pain in general, can benefit from this CBD pain lotion.

Tratamiento natural
For your skin care
Side effects of pain
Possibly one of the biggest benefits of using Hygea CBD pain cream is that it helps you avoid the side effects of pain. We should keep in mind that pain is often caused by a specific injury or health condition, but in some cases, the underlying causes are less visible or unclear.
This means that several tests must be performed. However, whatever the source, pain can be extremely debilitating and can lead to other illnesses or side effects that are sometimes overlooked.
For example, the most common side effects associated with pain include:
Difficulty getting good quality sleep.
Depression and anxiety.
Direct effect on mood.
Changes in eating habits.
Having said that, physical and emotional health are indisputably linked. For example, people who experience a lot of pain are more likely to suffer from depression and anxiety.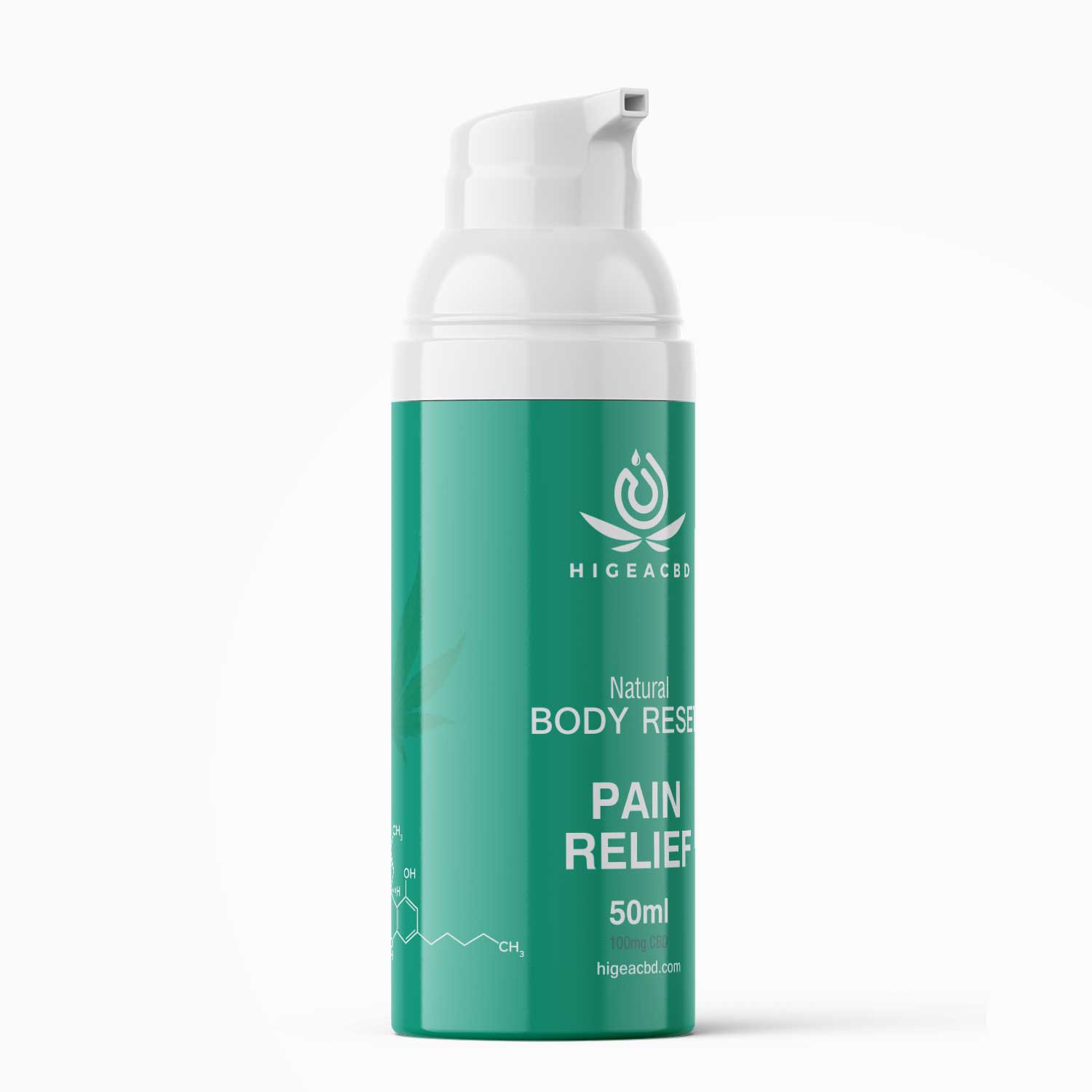 Because the severity of pain prevents a person from sleeping well at night, chronic pain can cause poor sleep quality or even insomnia. All of these side effects have the potential to spiral out of control, intensifying the pain in a feedback loop.
Fortunately, regular use of this cream for back pain and other parts of the body can help combat these negative side effects. That is, by eliminating the cause of chronic pain and inflammation, the chances of a person suffering from depressive episodes or feeling anxious are reduced.
Something similar happens with those who cannot sleep well or fall asleep due to a muscular ailment. Higea CBD muscle pain lotion provides immediate relief and allows for a restful night's sleep.



Legal notice and privacy policy